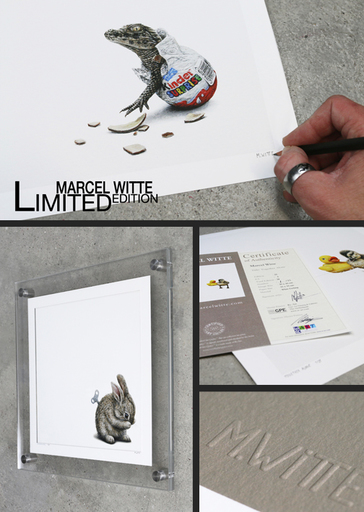 Frequently I've been asked to copy one of my earlier paintings. However, all of my paintings remain unique pieces of art. None of the artworks are duplicated. The buyer has the warranty that he/she is the only owner of the original artwork. But as a response to the increasing demand, there are now giclées available of a number of successful, existing paintings. It concerns a limited edition of art prints, each one in a number of 25 copies. The giclées of my works are printed on very high quality paper. All copies are personally signed and come with a Certificate of Authenticity. The giclées are also sealed with an embossed logo of my initials M.WITTE. By maintaining the true size, the power of the image is retained.
An additional advantage is the lower cost, compared to the original paintings. This makes it possible to get one of my artworks for a reasonable budget.
You can order the giclées in my ONLINE SHOP.
Giclée
The giclée is a fairly new and contemporary medium, that meets the expectations of the giclée fine art print market for artists, museums and collectors. Nowadays, giclée prints have found an equal place among the more known and traditional printing techniques such as etching, lithography, gravure etc.
Lifetime guarantee
The giclées of my artworks are made by Re-Art in Almere (The Netherlands), a concern associated with GPE (Giclée Printers Europe). Each giclée comes with a Certified Art GicléeTM. This is the European quality guarantee mark for original and limited art prints. The quality mark guarantees that the giclée print is manufactured with a high resolution (at least 1140 dpi to 2880 dpi) and is printed with high quality archival inks on acid free materials. As a result, Certified Art Giclées have a lifetime warranty.
Certificate of Authenticity
Every giclée comes with a Certificate of Authenticity, signed by me and the master printer. Each unique print is also personally identified with a signature, the title of the artwork and limited numbering. The giclées are also sealed with an embossed logo of my initials M.WITTE.